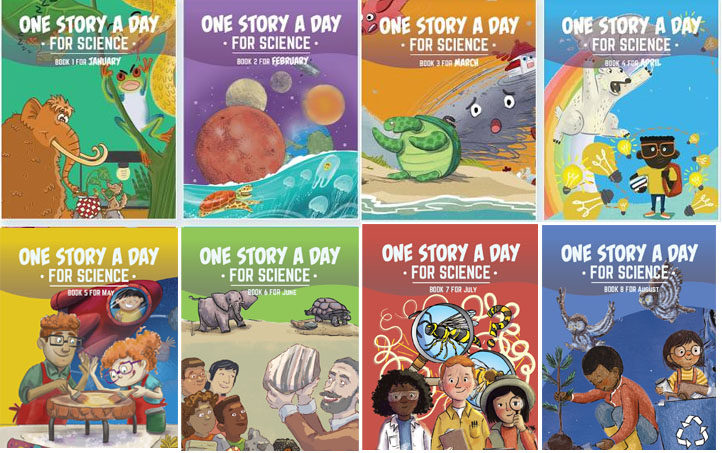 One Story a Day | 天天故事科学版
About This Program | 关于本丛书
Your children have completed our Best Phonics program or our Super Hammy series. They have a good command of basic reading vocabulary. Where do they go from there?
With the word decoding skills they have acquired thus far, our One Story A Day for Beginners is the perfect stepping off point. This program contains a total of 365 stories — one for each day of the year — separated into 12 books, each representing one month of the year.
With interesting topics and motivational content, these stories encourage enthusiasm for reading. Thoughtful illustrations reinforce the concepts in the stories, enhancing the child's understanding of the text.
The stories, written by Canadian authors, are inspired by life lessons, fables from around the world, nature, science, and history. The One Story A Day series is designed to foster the reader's total development — linguistic, intellectual, social, and cultural — through the joy of reading.
Each story is accompanied by read-along narrations by professional voice artists.
Activities accompany each story for a comprehensive development.
«One Story A Day For Science»系列是儿童故事与科学知识的完美结合,每一个小故事围绕着一个有趣的科学概念,从自然奇观到人类疾病,从历史人物到科技进步,从濒危动物再到人类DNA,让孩子们在学习英语的同时增长科学小知识。
该系列丛书是2021年最新出版的图书。
在沿用《One Story A Day»经典丛书的"365天,每天一个故事"理念的同时,«One Story A Day for Science»更侧重于讲述有关科学的小故事。
每个故事后面的活动页有助于小读者在掌握关键单词的同时对科学问题产生浓厚的兴趣,并对相关科学主题进行研究和探索,从而形成发现问题、解决问题、动手操作及发散创新等诸多方面的能力。
This reading program is designed for children with a basic reading knowledge.
The stories are written using vocabulary corresponding to pre-K to grade 1 of Ontario, Canada curriculum.
Completion of the entire program is equivalent to a vocabulary base of 500 words.
本丛书适合掌握一定阅读技能的小读者使用。
读完本丛书后将掌握约 4000 个单词。