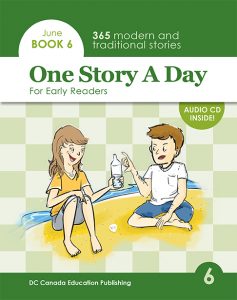 One Story A Day for Early Readers: June
Story 1: Emma and the Hot Day
Story 3: My Story with Fog
Story 7: Father Was Beaten
Story 8: Finding a Husband (I)
Story 9: Finding a Husband (II)
Story 10: Polly's Pudding
Story 11: What's the Difference?
Story 13: A Place to Find Wood
Story 14: Can You Solve This Riddle?
Story 17: All in One Family
Story 18: Stuffed Animal Parade
Story 19: Getting in Shape
Story 20: Summer on the Farm
Story 22: Daddy-Daughter Day
Story 26: Why Is the Sky Blue?
Story 28: Summer Vacation
Story 29: Snakes Are Different
Story 30: The Great Guitar Player